Dr Kate Rawles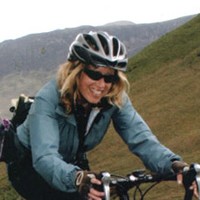 Dr Kate Rawles studied philosophy at Aberdeen University, and environmental philosophy at Glasgow and Colorado State Universities. She was an indoor philosophy lecturer at Lancaster University for nearly a decade before leaving to work freelance in 2000. From 2004-2014 she worked half-time as a lecturer in Outdoor Studies at the University of Cumbria – teaching 'big picture' environmental issues, sustainability, environmental education and a bit of sea kayaking – and half-time as a freelance outdoor philosopher, writer, lecturer and environmental campaigner. She left Cumbria University in 2014 to develop her freelance work and plan The Life Cycle.
Kate is passionate about the need to find urgent, effective and suitably radical responses to our multiple environmental challenges (including giving our values and worldviews a thorough overhaul) – and firmly believes our quality of life can go up rather than down in the process. She's excited about the potential of adventurous journeys as a communication medium and believes the adventure of sustainability is an adventure we're all on, one way or another.
In 2006, she cycled from Texas to Alaska, following the spine of the Rockies and exploring N.American responses to climate change. The trip has since formed the basis of hundreds of slide shows, to a wide range of audiences. The Carbon Cycle; Crossing the Great Divide (Two Ravens Press, 2012 & Rocky Mountain Press, 2013) was shortlisted for the Banff Mountain Festival Adventure Travel Book Award and was a runner up in the UK People's Book Prize. She's currently planning The Life Cycle biodiversity bike ride from Costa Rica to Cape Horn.
Kate's freelance work has included being 'Mission Leader' for Pangaea Exploration, sailing through the North Atlantic Gyre on yacht Sea Dragon to explore – and try to tackle – ocean plastic pollution and its deeper causes, including human nature relations, values and consumer culture. She lectures regularly on Forum for the Future's Masters in Leadership for Sustainable Development and leads their 'Ethics and Values' knowledge learning theme. She co-created and ran Forum's innovative Reconnections project – courses on values, environmental reconnection and leadership for business and organisational leaders – with Jonathon Porritt, and is a regular lecturer on Cumbria's Institute for Leadership and Sustainability masters programme.
Kate is a keen hill-walker and sea-kayaker (with a particular love of remote islands with lots of wildlife) as well as a long-distance cyclist and bookworm. She is a Fellow of the Royal Geographical Society and sits on the Food Ethics Council. She lives in Cumbria with her partner, Chris.
Dr Chris Loynes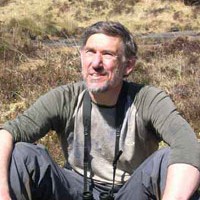 Dr Chris Loynes researches and lectures in Outdoor Studies at the University of Cumbria and leads an international masters programme at the Ambleside campus. He also consults in the UK and internationally for universities and experiential education organisations. He has recently been involved in evaluating several national projects that work in the outdoors, including Learning Away. He has a long standing interest in understanding practices of teaching and learning that get the best outcomes. He is currently exploring the application of outdoor and experiential approaches to education for sustainability, and regularly works with Kate on Outdoor Philosophy courses.
His first post at a comprehensive school involved the development of an outdoor education programme as an alternative curriculum. He moved on to lead the Brathay Hall Trust's Youth Development Programme. During this time he undertook a Churchill Fellowship to study outdoor leadership training world wide. He was the founder and editor of the Journal of Adventure Education and Outdoor Leadership, the field's professional journal, from 1980-2000. In 1987 he founded and managed Adventure Education, a training and publishing service for the outdoor education field.
As well as the voluntary youth sector and the outdoor education fields Chris has consulted in the education and corporate sectors. He has published widely in professional journals and conference proceedings and has a PhD which focuses on informal education. He is currently chair of the European Outdoor Education Network.
Chris is a Fellow of the Royal Geographical Society and a keen naturalist, mountaineer, offshore sailor and sea kayaker.