A 4553 mile ride along the spine of the Rockies
'The goal was to combine an adventurous journey – a long bike ride in the Rocky Mountains – with a powerful piece of environmental communication.'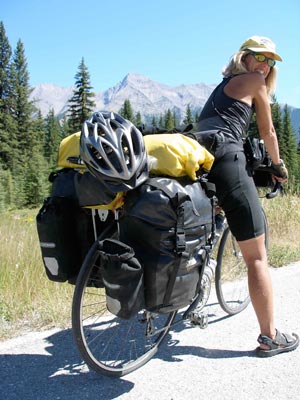 The Carbon Cycle was my first real crack at the 'Adventure Plus', journeys with a purpose idea. In June 2006, supported by a Winston Churchill Travelling Fellowship, I set out to cycle 4553 miles from Texas to Alaska, following the spine of the Rockies and exploring North American attitudes to climate change in one of the most oil-intensive countries on earth.
Back in the UK three months later, I used tales and images from the journey as the basis of The Carbon Cycle talk, radio interviews and (eventually!) The Carbon Cycle book; all combining the adventure story with the latest on climate change and a strong call to action. I wanted to use adventure as a way of making the climate change message more engaging, and bringing it to diverse audiences – including those who might not necessarily be interested in a climate change talk as such. I think it worked!
The talk has since been given at hundreds of venues, from Kendal and Keswick Mountain Festivals to local cycling, hiking and environmental groups; from Edinburgh, Hay and Knoydart literary festivals to the Royal Geographical Society, Edinburgh Festival of Cycling and the Cycle Touring Festival, as well as schools and universities. The trip, its aims and the book have featured on BBC Radio 4's Woman's Hour, Scottish Book Café, Radio York weather show, Sea Change Radio (USA) and BBC Radio Cumbria.
The Carbon Cycle Book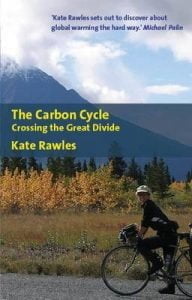 The Carbon Cycle; Crossing the Great Divide (Word Power Books, 2016) has just been republished as a second edition by Word Power Books, with a new epilogue.
It is AVAILABLE TO BUY DIRECT FROM THEIR WEBSITE http://www.word-power.co.uk/books/the-carbon-cycle-I9780993463211/
The first edition of The Carbon Cycle; Crossing the Great Divide (Two Ravens Press, 2012) was shortlisted for the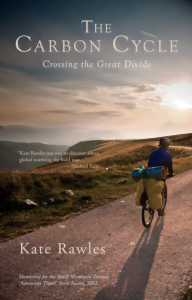 2012 Banff Mountain Festival Adventure Travel Book Awards, and was a runner up in the UK People's Book Prize. It was published in N.America by Rocky Mountain Books in 2013.
'Kate Rawles sets out to discover about global warming the hard way.' Michael Palin
'A powerful analysis of the deep roots of climate change, communicated via a compelling journey.' Christiana Figueres, former Executive Secretary of the UN Framework Convention on Climate Change.
'A wonderfully rich and insightful narrative … an extraordinarily revealing series of vignettes. Kate's workaday belief that the principal purpose of philosophy is 'to question the assumptions of our age' keeps even her most abstract reflections grounded in an admirable way.' Jonathon Porritt, environmentalist and author of Capitalism as if the World Matters & The World We Made.
'A wonderful combination of adventurous cycling with one of our most urgent environmental challenges.' Sarah Outen MBE, adventurer and author of A Dip in the Ocean & Dare to Do
'If anyone has asked me recently if I've read Fifty Shades of Grey I've replied "No, I'm too engrossed in The Carbon Cycle."' Jonathan Denby, Hotelier and 'Slow Life' blogger.
Rocky the road bike has been in the Glasgow Riverside Transport museum's Adventurers Exhibition since 2014, along with Ewan McGregor's motorbike and Mark Beaumont's bicycle, amongst others. This exhibition has just closed but Rocky has now joined the museum as part of their permanent collection.
About the ride
The journey took me through extraordinarily diverse landscapes, from the New Mexican desert to Alaskan glaciers running down to the ocean, with some of the world's most stunning mountain scenery in between. Often hot, fairly often wet, and always, always windy it was a tough, tiring but absolutely fabulous ride. Wildlife and people were always highlights. I encountered bears, wolves, moose, cliff-swallows, shimmering aspen and a single, astonishing lynx. I cycled the first half alone – my partner Chris joined me in Montana – and constant generosity and kindness confirmed my belief, and that of every other solo cyclist I know, that 98% of the world is friendly and helpful. 'Heck honey are you crazy?' and 'can't you afford a car?' was so often followed with 'can we buy you lunch?' or 'please take my number in case you ever need help.'
Along the way I talked with anyone and everyone I met about climate change, from truck drivers to the Mayor of Albuquerque, from the Rocky Mountain Institute to RV-driving holiday makers. At the height of the Bush administration in one of the most oil-intensive, oil-dependent countries on earth, what did people know about climate change? Did they think it mattered? And if so, what did they think could be done? Above all, I sought solutions in the belly of the oil best – in order to bring them back home.
And of course, it was also a journey of ideas. Constantly challenged by my own assumptions, I came back with a very different attitude towards my own carbon footprint, and with new questions and thoughts about how we cross the great divide between where we are on climate change, and where we need to get to. Can we tackle climate change while keeping our modern western lifestyles intact? Should we put biofuel in the hummers and RV's? Or do we need deeper shifts in lifestyles, values and worldviews?
Sponsors