This is the last in a series of friends and family updates I wrote on The Life Cycle journey. It captures something of the rather crazy race-to-the-finish ending, so I thought I'd post it here …
Friends and family update
Valparaiso, Feb 28th
THE END!! (sort of)
In Cochrane, from where I wrote last, in the small hostel backyard Woody and I were camped in, I met two Canadian women, Lisa and Shanne. They are involved in the Yellowstone to Yukon conservation corridor campaign that I first found out about during The Carbon Cycle journey eleven and a half years ago. The importance of conservation corridors, joining up nature reserves and other protected areas so that animals can travel up and down them (increasingly important in the context of climate change) is now a major theme in nature conservation, but was just emerging as a key strategy then. Lisa and Shanne know various people I met on that journey ….. Small world etc and really lovely to come upon strangers who fast become new friends.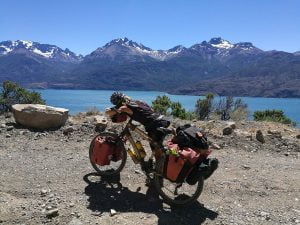 From Cochrane, the fabulously beautiful but often tough (and gravel infested!) Carretera Austral took me, after several days, some of them exceedingly wet, to Via O'Higgins, a small and friendly town surrounded by mountains where the way south involves two lake crossings. The first is usually traversed by a large boat that had broken down some time previously. I arrived to find a large backlog of biker/back-packers, all waiting for places on a very small boat which could only sail when it wasn't too windy. Ie rarely, this being Patagonia. Some had been stuck in O'Higgins for well over a week. By great good fortune, my friend Neda, now ahead of me by several days, had managed to get me on the waiting list and I only had to wait two days which, in retrospect, was perfect. I was getting more and more tired, and the enforced rest probably made the remainder of the ride possible. I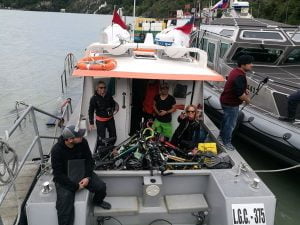 was able to do some work on Woody, who had developed a crack (in the only bit of bamboo that came from China rather than Cornwall's Eden Project!) And I was still left with a chance, albeit a rather outside one, of making it to Ushuaia. If Neda hadn't helped me jump the queue, though, that chance would have vanished.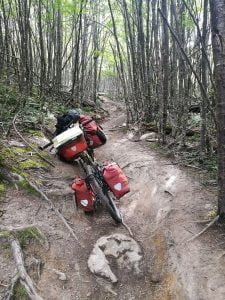 On the far side of the first lake is a steep, gravelly climb followed by a descent via the Argentinian border to Lago Desierto, This descent is essentially a single-track mountain bike mega-challenge route. Over tree-trunks, tree roots, and boulders, and through small rivers, not so small swamps and occasionally, narrow channels carved by earlier floods, this is a ride, or rather a push, for which a heavily loaded bike with (wide) panniers is less than ideal. It gets much easier when you give up on the idea of keeping your feet dry or of trying to haul the bike up the steeper sections without taking the panniers off first. But it nonetheless marked the beginning of the toughest ten days' cycling of my life.
Leaving El Chalten the next day, a place famous for various fabulous hiking trails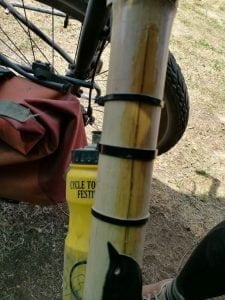 that of course I didn't have time to do, I had 8 ½ days left to ride the final 640 miles, in order to arrive in Ushuaia the day before my favourite occasional road friends, Tara and Aidan, first met in Colombia and already almost there having ridden from Portland Oregon, were to leave for home. And two days before I had to catch a bus back north. I was exasperated and a bit mystified to have somehow trapped myself in the same 'race to the finish' ending that was so frustrating at the end of The Carbon Cycle and that I had vowed to avoid repeating. Yet again I was having to race (relatively speaking) in an increasingly exhausted state past all manner of beautiful and interesting places without time to stop. And yet, having decided that the end of the ride was Ushuaia, more-or-less as close to Cape Horn as you can get on a bike, and worse, having announced this on Facebook (!) I genuinely couldn't find a way within myself of finishing the ride earlier that didn't feel like a failure. So I pushed on.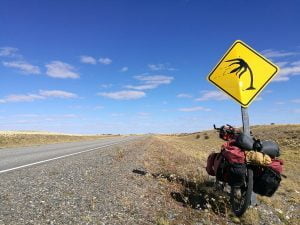 Patagonia threw everything it had at me. Evil side winds. Almost unridable headwinds. Rain storms followed by hail storms. A fifteen-mile climb that I wasn't expecting at the end of the long day. The winds were by far the biggest challenge: one day it took me nearly five hours to cover about twelve miles and there were times when I had to stop trying to cycle and just hang onto the bike so as not to end up flying backwards across the road and into the fenders of the (luckily few) passing trucks. That was the second time the road reduced me to tears on this trip, as my chances of getting to Ushuaia diminished with every totally strained yet almost utterly ineffective pedal stroke and I got more and more exhausted in exchange for vanishingly small forward progress. All I could do, even as my constant calculations (at this rate I need to x, y, z miles per day to get there, where x,y,z are ever increasing numbers…) lead to ever more impossible conclusions, was to keep going, to keep trying. It was a weird exercise in balancing tactics (the main one being sleep versus hours in the saddle) over stubborn optimism and the realisation that I was in territory I couldn't fully predict or calculate. Just keep going. Something could still change……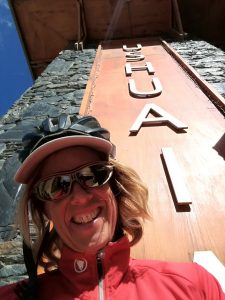 I did, and it did. Right in the nick of time, I turned a corner into a tail wind and rode it for 99 miles. I was already riding ten, eleven-hour days and wild camping wherever I got to at dusk. That day I rode for over 12 hours and almost fell off the bike at the end of it. But it was that day that changed the maths and made it possible. I spent a lot of it laughing/crying out loud like a lunatic (I was very tired by then!) the glee compounded by having learned that my friends' plane didn't leave until 8pm, which bought me an extra half-day. Woody and I rolled into Ushuaia aka 'The End of the World' at lunchtime on the 16th Feb. Tired but happy would be the understatement of the trip but I stayed awake long enough to spend a truly joyful few hours swapping stories with Tara and Aidan. Pisco sours were involved, naturally. I don't think I have ever been so exhausted, or so elated.
With only one day to spare, and a few failure-to-book-bus-in-advance related gliches leading to a very expensive six-hour taxi ride (!) Woody and I were soon headed back north. No time to visit the University of North Texas' environmental philosophy field station as I had hoped, nor take a voyage up the Beagle Canal to muse on Darwin's journey and visit the penguin colonies. Sigh. I did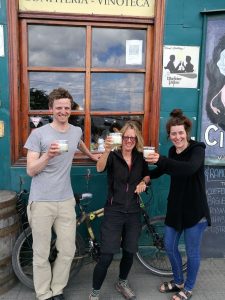 have a very lovely reunion with Neda before I left, though. AND a truly wonderful three days on a boat through the Patagonian Fjords (mostly hidden by rain but still fabulous) where I fulfilled a promise to myself that I would do absolutely nothing but watch the mountains slide by and reread 100 Years of Solitude. And eat the unexpectedly good food that arrived three times a day, every day! Real, actual vegetables were involved…..
From there, various buses took us – sorry Woody, being crammed into the luggage hold with your wheels removed was less than ideal – to Valparaiso, where I am now, trying to do everything I need to do that involves emails and wifi before boarding my cargo ship home tomorrow. The cargo industry as a whole has a huge environmental impact, but crossing the Atlantic by cargo ship still has a much lower cargo footprint than the equivalent plane journey. And the voyage, via the Panama Canal, which Chris and I visited and were fascinated by right back at the beginning, will take a month….. a great time to begin the much bigger challenge of writing the book.
It has been an amazing journey, in so many ways. I haven't really begun to think about everything I've seen and learned or to take in that the cycling part of it is over. At this point I am still utterly delighted to be not cycling! I don't think it will be long, though, before the allure of the road, of being out there, with huge spaces behind and in front and not knowing where I will be at the end of the day; with the freedom that wild camping gives you and coming out of the tent at night to see fox eyes and the fabulously chaotic southern hemisphere stars; with all the encounters with people and places and creatures and plants, from the mundane to the intensely significant; with the constant hunger and real, deep joy from food and water and shade and shelter and rest that is so hard to stay in touch with in the 'normal' world; before all of that pulls at me again. I am going to have to relearn how to live in a stationary house, and how to interact with other humans on a regular basis and beyond a request for a place to sleep or for rice and eggs. And how to decide what to wear when you have more than two t-shirts to choose from.
Above everything, it's the beginning of trying to figure out how to best to harness the story; to make the journey do its work as a piece of communication and fulfil the 'adventure plus' ambition of raising awareness and inspiring action on biodiversity loss. It's The Life Cycle, after all…..
Thanks so much to everyone who has sent their comments and encouragement and support and news along the way. It's made a huge difference. See you on the other side, soon!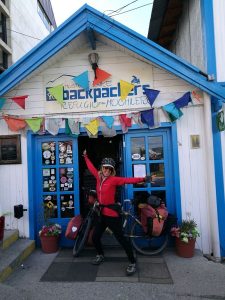 Kate
Ps the ship is a Hamburg Sud vessel called Cap San Sounio. You can track her progress here if of interest: https://www.vesselfinder.com