I arrived at One Love thanks to Manuela, a friend of a colleague of a friend, who I'd not yet met. 'Kate' she said, on the mobile phone that I'd finally (more or less) figured out how to get to work in Colombia, 'I know biodiversity and nature conservation is your main focus but would a visit to an eco-lodge be completely irrelevant? There are links between conservation and sustainable tourism, yes? Am at one right now, as it happens…'
I'd left Woody in Santa Marta and travelled east to Palomino by bus, along the beautiful coast road (what I could see of it thanks to the local habit, no matter what the scenic vistas, of travelling with curtains drawn tight across all windows.) From there, a motorbike taxi delivered me and a bike pannier-turned-hand-luggage to One Love via an erratic dirt road that left my eyes metaphorically out on sticks and my eyebrows somewhere up in the sky. Little did I realise what a benign version of moto-taxi travel those first few miles actually were.
One Love Reserve and Hotel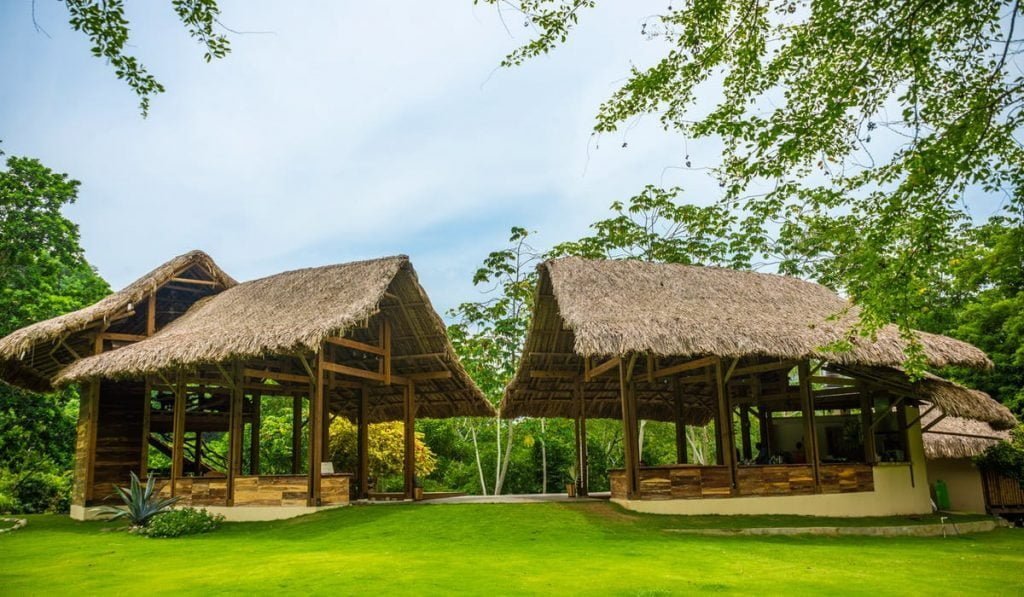 With a mental image of eco-lodges undoubtedly shaped by association with the various eco-farms I've known and loved over the years, I was expecting something wonderful but ramshackle, and on the basic side. One Love Reserve and Hotel definitely did not fit that mould. A guard asked the moto-taxi to wait while he caught the dogs and then lead us round to a cluster of beautiful, open plan buildings on a small plateau overlooking the Palomino river and surrounded by several discretely placed, luxury thatched 'huts': one of which was mine. A backdrop of
lush, dense tree-covered hills dropped down to the river. Manuela, slim, dark haired and elegant strolled barefoot across the grass to meet me. Then Alan, the owner, with a wonderful warm welcome, and several hounds, including a pointer called Jimi (after Hendrix.) Handing me a freshly made lemonade juice, Alan lead me to a table on an open, wooden floored space next to a small library, with beautiful plants, a lush range of birdsong, excellent wifi and a Swiss shamanic musician playing dance-beat/nature-sounds sort of music that was both deeply soothing and impossible to sit still to; and that somehow contained an invitation to an altogether different reality.
Which One Love itself was, in a way. A sort of gateway to the mountains, to the Kogi people, and a meeting place – this was how Steffen, the musician, described it. And indeed, within the first hour, I'd met a German horse (and motorbike) riding medic who was, amongst other things, involved in returning indigenous artefacts, taken by tomb-robbers, back to their owners. 'They need these objects for their rituals and practices' he said. 'Like the stones that they plant in a gourd in order to bring water. I've seen it with my own eyes.' There was a young French-Canadian woman in shorts and a leather halter-top covered in feathers, huge eyes and huge energy and huge smile, a former ocean sailor who had just bought some land here and was figuring out how best to grow organic food; and two men who were opening a gourmet restaurant in Barranquilla. Together we made an enormous salad for lunch, various people chatting and laughing and arriving and leaving. Then I sat on the deck near a photo of Bob Marley, listening to the human music and the bird music, looking at the utterly beautiful trees and grinning my ears off. What had I done to deserve this fabulous detour, exactly?!
Later, on a wander down to the river, Alan pointed out a Macondo tree – as in the town in Gabriel Garcia Marquez' novel One Hundred Years of Solitude. It is one of the few trees that loses its leaves here in this climate where there is no winter as such, only wet seasons and dry seasons. It had lost its leaves now and the many vultures sitting in its branches were clearly visible, shoulders hunched like huge, dark herons. What does having no seasons mean for life and ways of living? Without spring, when do birds mate and trees flower? I'd never even thought of this before. It joined the very long list of things I wanted to know, fast becoming clear that I need to retrofit my understanding of basic ecology as well as my Spanish.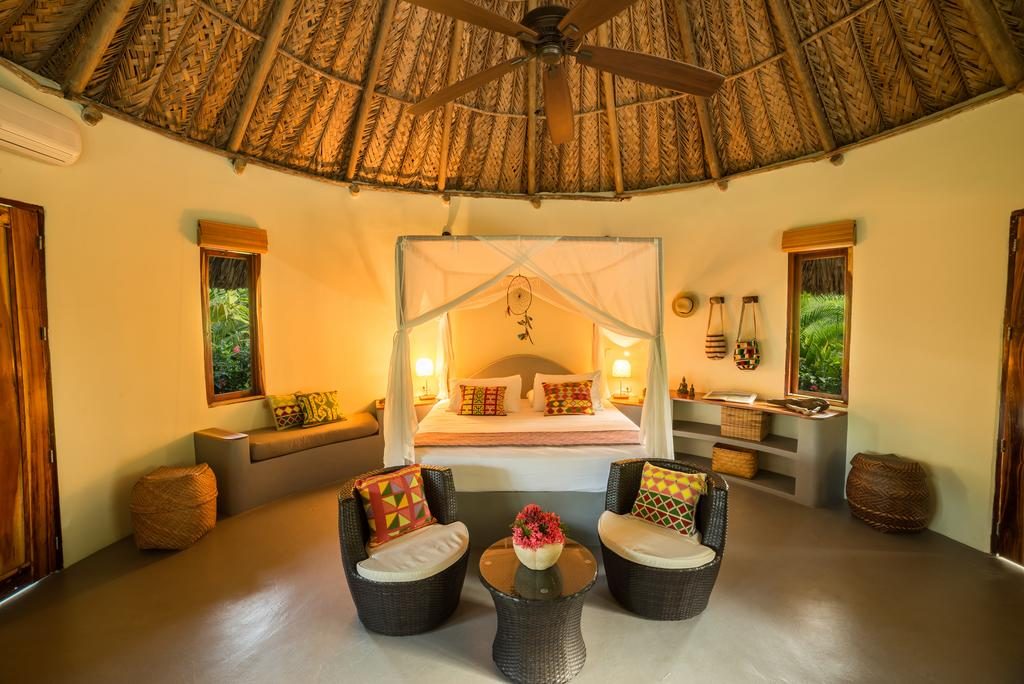 Alan's vision is to create somewhere seriously beautiful, with a low environmental impact, a re-invigorated connection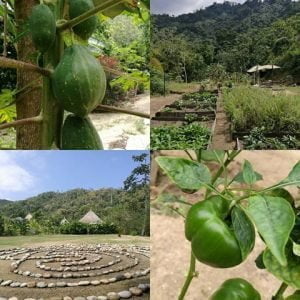 with nature, and a retreat/people-and-ideas-and music-and nature hub (with fabulous food, much of which will eventually be grown in their own organic gardens.) To my mind, it was a different model of what 'luxury' could mean; fairly far removed from the dominant, high-consumption-oriented one, with its focus firmly on quality experience and time. Of course, like almost all versions of so-called eco-tourism I've ever encountered there are dilemmas, the most obvious being the contradiction between the goal of low impact, sustainable tourism and a dependency on foreign visitors most of whom have arrived in the country by plane, and hence with a whopping carbon footprint. And this gnarly aspect of eco-tourism is itself part of larger dilemma about how we balance the huge positives of international travel in general, against its carbon and other costs. Once in the country, though, a place like One Love (and to be fair, their guests would also include many, perhaps even mostly, Colombians) has a huge amount to offer and, in a more or less surreptitious way, to teach. Or at least to some (another dilemma: I was there as Manuela's guest who was there as Alan's friend but normally, it's not cheap.)
24 wonderful hours later, Manuela and I dragged ourselves away. We were headed inland, for the mountains. In the space of 42km, she told me, the ecosystems in the Sierra Nevada region change from ocean to desert to tropical dry forest to tropical humid forest to paramo to the snow-capped mountains. 'There's extraordinary diversity in the landscapes and life forms here,' she said. 'And also intensity. You'll see. You'll feel it.….' It's an area with a complex and conflicted political and social history too. With little government presence, it had long been a stronghold of the paramilitary, allegedly still present and linked to drugs and conflict on the one hand; yet also known as an absolutely safe area for the many tourists who walk in to the Lost City. Fascinating. Or at least, from the privileged position of a visiting outsider.
As we travelled inland – mototaxi, then foot – we met occasional Kogi on the trail. The Kogi survived the Spanish conquistadors' attempts to destroy them by retreating high into the mountains. They see themselves as 'The Elder Brothers', and guardians of life on earth. Since the 1980's they have been warning that the world faces ecological catastrophe and, in 1990, a British historian and film-maker, Alan Ereira, was granted unique access, asked by the Kogi to make a documentary film about them. Their aim in doing this, as a people who usually strictly restricted direct contact with the modern world, was to issue a warning. In particular, they wanted to warn 'The Younger Brothers' (ie citizens of modern, industrialised countries) that we need urgent and radical change both to our ways of living, and to our exploitative attitudes to the natural world – if we are to avert environmental catastrophe.
Environomica Colombia
Once off the bikes, we talked about Environomica, the organisation for which Manuela is the Colombian lead. Environomica Colombia has two main aims: the conservation of forest ecosystems, and sustainable rural development. In terms of the latter, they are working, not with the Kogi, but local Colombian farmers, supporting them in developing alternatives to cattle farming. 'Cattle farming here takes up huge amounts of land per animal,' Manuela explained, 'and, of course, it involves clearing that land of trees. If the farmers can make a better living without needing to cut trees eg by growing organic cacao, or adding value to other products by producing them organically, then that's a massive win/win.'
Based on a farm run by Wilmer and Sandra, and hosting in their small space, not just Manuela and I but visiting relatives, various volunteers, a film-maker and later, the head of Environomica who was visiting from Europe, we spent the next few days exploring the reserve – by foot and memorably, by mule – as Manuela explained layer after layer of their impressively joined-up work. Tree planting, community development, education, research, community engagement…. I particularly liked the nurseries with young native trees that were sold to tourists, teaching them something about the role and value of the forests here, and helping them to leave a positive footprint by buying a young tree and planting it (in a pre-dug and strategically placed hole) as they trekked the four or five day hike to The Lost City (often with mules taking their luggage in, and rubbish out.) Environomica's conservation aims were truly ambitious: to plant 10,000 trees a year in the Sierra Nevada region; and to join up numerous forest fragments in order to create a far-reaching and all important conservation corridor that would allow species to move and greatly enhance the biodiversity potential of the whole region.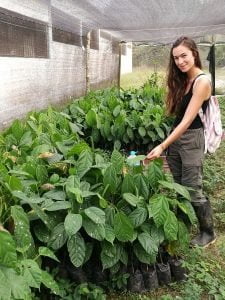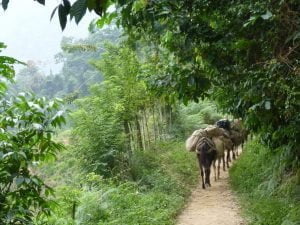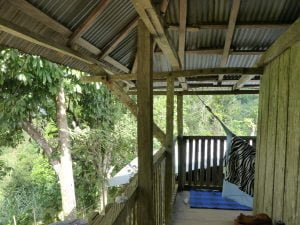 I spent my first ever couple of nights in a hammock, slung from a platform on the first floor with views of the beautiful, green, angular mountains all around and the small courtyard full of people, dogs, puppies, a cat, various chickens, a washing line and the water trough below. Emerging banana-shaped from the hammock in the chilly morning, the contrast with One Love was stark: no electricity, cold water bucket showers, no telephone – though there was a walkie-talkie that crackled out messages in the traditional walkie-talkie repeat three times manner, and often in an increasingly hysterical sounding tone 'Sandra, SANDRA, SANDRA! – and definitely no wifi. One Love was fabulous, but I could happily have stayed a lot longer on this little farm too, a privileged glimpse into how people live in these remote mountain regions.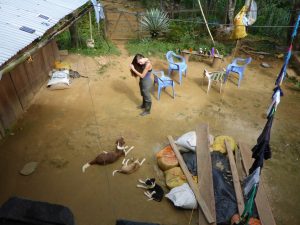 We left by moto taxi. It's a unique experience; a sudden, weirdly trusting and almost intimate relationship with a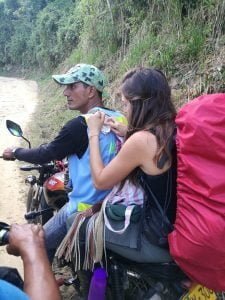 young man who is a total stranger but in whose hands and skill your life completely lies for the duration of the journey, most of which you spend with your hands on his shoulders or waist as he drives you, and your luggage, over terrain I had no idea a motorbike could even go, often at high speed, and often on the wrong side of the track or wherever the ruts and potholes are smallest, apparently relying on telepathic awareness to establish whether or not another moto-taxi is coming (also at high speed) in the other direction. I had Leonard Cohen, 'if it be your will' playing in my mind the whole way. It was a lesson in trust that I'm learning again and again on this journey.
Manuela was right. That landscape was powerful. And there was something powerful about living with so little, and simply focussing on what was to be done that day, too. As we came back down the mountain, I felt both more at peace and more alive than I had done for a long time. But, as we finally reached the road and Manuela's car and started the drive back to Santa Marta, I realised it was already draining away. What is it, exactly, about 'civilisation' about roads and traffic and towns and shops that makes it so hard to sustain this wonderful, energised, peaceful feeling; that saps it out of you so quickly? Something to do with rush and noise, but also with the values embedded in consumerism? – the value attached to things and stuff as opposed to community, connection, nature, music….
I'm starting to sound like a hippy. But for whatever reason, on this occasion, coming down the mountain was an awful lot harder than going up.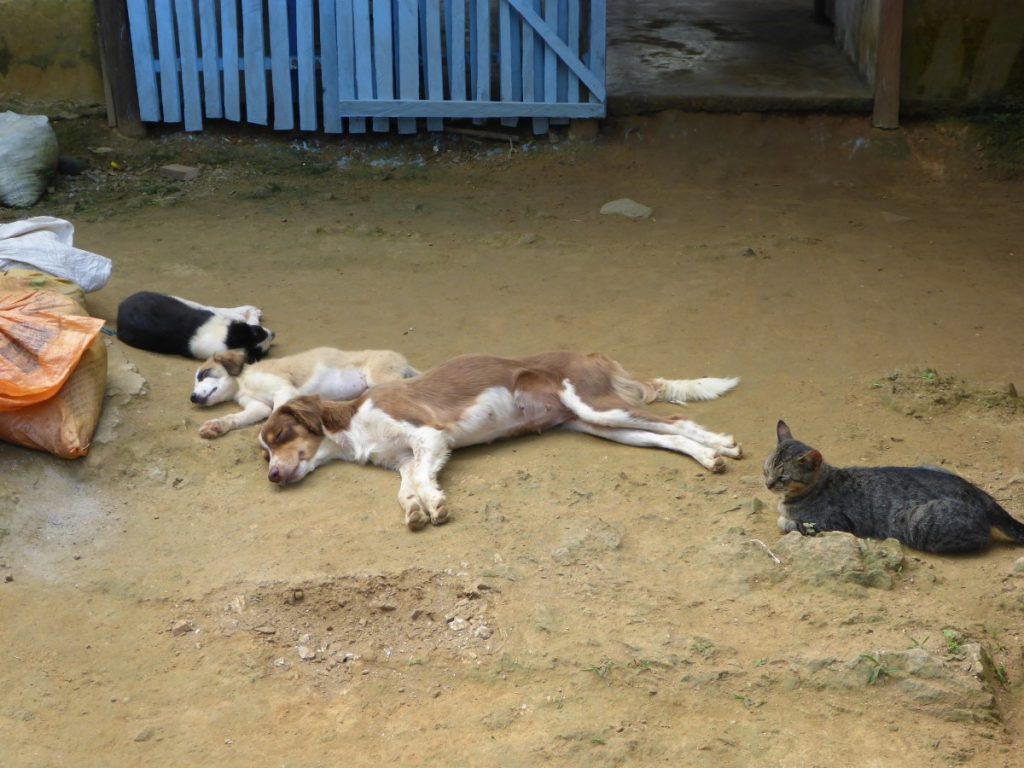 You can find out more about Environomica, and donate to their work if you wish, here: