'All journeys have secret destinations of which the traveller is unaware.'
Martin Buber
'It's typical' [my detour north]. 'You set out with a linear idea of what your journey should be and soon discover the world has other plans.'
Steffen Kirchhoff, Shamanic musician
If you are starting in Cartagena, Colombia, Santa Marta is not on the way to Patagonia. It's about 150 miles up the coast to the north east. But, with a cluster of invites to visit various environmental projects in that direction, it seemed like a minor and worthy detour. And so, finally, after 5 weeks of bus and boat travel, Woody and I launched ourselves into the Cartagena traffic and headed for the coast.
I had been a tad concerned about the taxis, which flock the city in yellow hooting multitudes. The taxis were just fine. Other vehicles, though, were another matter. A diary extract:
The buses were demonic. They are all in some rival warfare with each other, and they blast past, multi-coloured and blaring, cutting corners, cutting up anyone on their inside and generally focussed on outmanoeuvring other buses rather than on the road. I inched out into traffic, stopped at the slightest doubt, raced around parked objects back into the calm(er) zone and pushed across every busy junction. It was still hair-raising. And you can't focus solely on the buses because the road is prolific with potholes, motorcycles in all lanes and all directions and constantly switching, and people pushing carts, and sudden piles of gravel. Out on the coast road things calmed down slightly, but only slightly. A huge wind was blowing – against me, of course – initially with added sand and grit.
Besieged by Carbon Cycle deja vu – I am browner and more heat-adjusted, but still out of shape, on an overloaded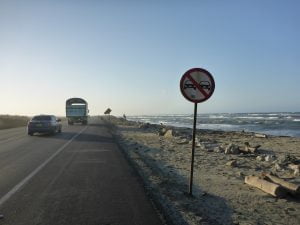 bike, setting off into the heat and headwinds – the next few days were a not-always-gentle introduction to Colombian cycling. Both tough and fabulous, and as if designed as a fast track learning curve for a naïve gringa.
Lesson one: headwinds.
These were a Good Thing, at least in that I was heading north but would mostly be heading south; and that they swirled up the heat with a genuine sliver of sea breeze, reducing the fan-oven effect. But, at times so strong I had to get off and cling to the bike to stay upright, they also slowed me down a tad. It seems to be a law of (my) cycling that whatever the distance, the time remains the same. Having almost halved my daily aims compared with The Carbon Cycle it still took me more than all day to get there. End result, loss of daylight.
Lesson two: cycling in the dark.
A wonderful thing in many circumstances, but not as an introduction to the city of Barranquilla. Another diary extract: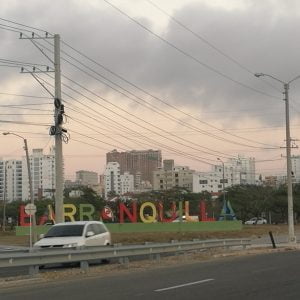 Having congratulated myself the night before for somehow finding the only hostel/hotel in Galerazamba or indeed anywhere on my route so far, I assumed that finding somewhere in large and populous Barranquilla would be a breeze….. ended up slogging uphill up an endless busy main central street with battering headwind in fast fading light in horrible traffic and then weaving about looking for cheap hotels that appeared on maps.me but not on the ground. After the third one failed to materialise and it was pitch dark and traffic bonkers and about 9pm I bumped into a 'Park Inn' complete with liveried doorman. Deciding my life was at stake, I tentatively enquired about the price of a room – about $60 rather than the many $100's I'd imagined. Frugality temporarily on hold, I am suddenly in safe, air-conditioned luxury and have just had the best shower ever (and the only hot one in Colombia so far.) Woody is of course, safely installed in my 12th floor room (another moment of Carbon Cycle déjà vu.)
Lesson three: exit strategies
Next day, having studied maps.me, I came up with a super smart plan to outwit the traffic by taking a minor road out of Barranquilla that ran closer to the sea. I harboured fantasies of a really nice lunch once I had survived the town centre traffic and was on the coast road heading out of town. The road duly became quieter, but the lunch fantasy receded as I found myself cycling with a razor-wired industrial site on one side and a sludge of water and acres of grim-looking favelas on the other.
I was soon flagged down by a woman on a scooter, who, having established my direction – across the bridge towards Santa Marta – shook her head in horror and said 'muchos rateros'!! The translation is 'pickpockets' but her sign language suggested something a little more unpleasant. In the decision to escape the traffic it hadn't occurred to me that I might be venturing into risks of another type, the stereotype of dangerous Colombia having been long ago been displaced in my head from previous (and current) experience into friendly, helpful and beautiful Colombia.
My scooter guardian insisted on escorting me to the Santa Marta road bridge, stopping at all checkpoints to inform them of the stupid gringa on a bicycle with obviously expensive panniers full of presumably valuable stuff. Finally we reached the junction, where she pulled up at a parked police van and explained. The policeman grinned, shook his head and then my hand, and then waved me onto the bridge up the wrong way up a one-way slip road in a gap in the traffic.
In places, the road on this route is only road-width, running alongside an unfriendly looking, white-waved, dark khaki-coloured sea. After a while the sea is replaced by an intriguing mix of mangroves, patches of low dense woodland, then sand and cactus. In between road works, hotel developments and the occasional sign saying 'golf course' (!) there are long stretches with no signs of human-life at all. At other times there are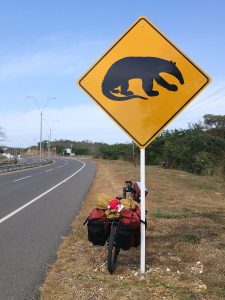 cattle, with white cattle egrets, and once a cluster of black vultures, hopping around a road kill. Signs warn of anteaters, snakes and geckos on the road, and occasional explosions of emerald green parakeets swamp the air with harsh cries.
I love the contrasts – in the landscapes, and in the places I find to stay. The night before the liveried hotel stop I was in a hostel with no electricity, whose owner lead me through sandy, frog-hopping dark streets to a small shop to buy water and a bread and cheese dinner. More than once I ended up in a truck stop motel, quickly surrounded by people wanting to ask about Woody (Bamboo? Really? Why? How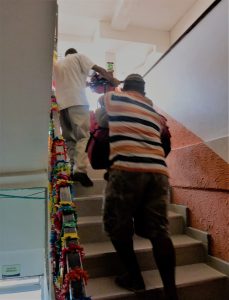 much? You MADE it?!!) and truck-drivers insisting on carrying him fully loaded up flights of stairs to the room. One of the positive aspects of being the wrong side of 50 is clearly the chivalry it provokes in Colombian men, though friendliness and helpfulness is a constant theme amongst more or less everyone I've met (I never did meet any rateros so I can't vouch for them.)
Cycling back towards Cartagena after various wonderful visits to some truly brilliant nature conservation projects – more on that to follow – Lesson four: never feel smug became crystal as, having congratulating myself on learning from 1-3 above, I'd reduced my mileage, done everything I could to ensure I wouldn't be on the road in the dark, and booked somewhere to stay in advance. But the place I'd booked turned out not to exist (or not where Google and maps.me said it did) and, having dawdled and café-stopped earlier in anticipation of a short day, I ended up racing the remote section, trying to out-pedal the swiftly sinking sun, 30 miles to go to the next possible stop with not quite enough time – or water. Hot, dry-mouthed and working hard, I stopped to harness the magic-music I-pod power and, pulling away again into the heat with Cheryl Crow blasting 'I'm not the kind of girl you take home' I had one of those moments of sheer, piercing happiness. Somehow, for all the toughness and challenges, this is absolutely the right place to be.  I am so very glad to be here…..