Not that there were ever moments when I asked. Wading through bamboo dust to my semi-assembled bits-of-a-not-yet functional bike I never once wondered why I hadn't gone to Halfords like a normal person. Honest. But if I had, there would have been some excellent answers.
For James at the Bamboo Bicycle Club, the main reasons are to do with empowering people to build their own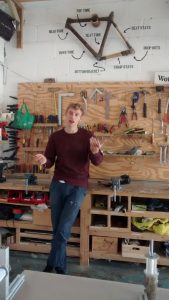 machines. That's his vision: hundreds and eventually thousands of people, who have been through the unique process of building their bicycle, to their specifications, from scratch; from, literally, a pile of sticks. There is something really powerful about disentangling bikes from remote expertise and making them, their construction and their maintenance, a whole lot more accessible. He is excited by the potential of bamboo as a material too. It's strong and versatile and, when used to build bikes, results in a bike with a smooth, shock absorbing, but not too flexy ride. Very comfortable, reasonably fast. And especially good (I am convinced) for long distance touring….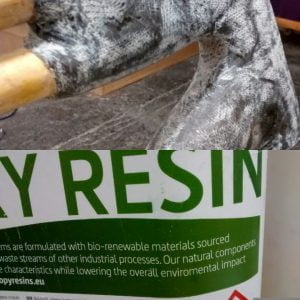 For me, a key reason to build a bamboo bike is the environmental footprint. Woody's components are conventional and include aluminium and steel, much of which has been imported from afar. But the heart of this bike is local and low impact. The joints are made from Yorkshire hemp soaked in a European plant-based eco-resin. The bamboo came from the Eden Project in Cornwall. Truly a 'home grown bicycle' in these respects at least. In addition, bamboo is long lasting and, in theory anyway, recyclable. Even if it turns out impractical to recycle, it will certainly be biodegradable. How many of us have the option of composting our bikes, when that sad day comes?!
I've been working with Mike Berners-Lee of Small World Consulting to try to put some numbers to all this. Taking into consideration the different treatment and construction process of steel versus bamboo (steel involves a lot more heat) and the local nature of the bamboo, the carbon footprint of this bike is around 15kg less than a steel-framed equivalent. In the bigger picture, these are small savings of course – primarily because all bikes, whatever they are made of, have a small footprint to start with. But the symbolic significance is a whole lot larger.
Given that the aims and ethos of The Life Cycle trip are all about environment, it feels fitting to be setting off with a relatively low impact bike, not to mention the lovely coherence of riding a trip focussed on biodiversity on a bike that used to be a plant. And the lower footprint of the bike readily opens up conversations about other aspects of the trip too – which is where the much bigger carbon wins emerge. Here's how some different ways of crossing the Atlantic compare:
First class flight: 6200kg CO2e (CO2 equivalent)
Economy flight: 2140kg CO2e
Cargo ship: 50kg CO2e
If I were Sarah Outen I'd have the capacity to reduce this much further by rowing myself across, of course. But just in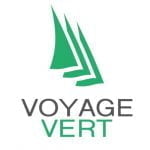 case I haven't cracked that particular  mix of madness, courage and skill by the time I'm trying to get back to the UK in early 2018, I'm hoping that Voyage Vert will be up and running by then. Their brilliant and timely ambition is to provide a trans-Atlantic passenger yacht service. The carbon footprint of that will be:
(The figures above are for the journey only, and don't include the embedded carbon in the plane or boat.)
It turns out, though, that one of the areas where I'll be able to make the biggest difference to the carbon and wider environmental impacts of The Life Cycle journey will be in relation to what I eat. More on this to follow but here's a taster. As an approximation, a cyclist can count on needing around 50 kcals per mile. My overall distance is going to be somewhere between 5-6000 miles. Assuming it's 5000, that would be 250,000 kcals. The carbon footprint of those 250,000 will vary wildly, depending on what I eat. Again, to give a flavour: a wheat only diet would cost 70kg of CO2e; a beef only one, 3000kg!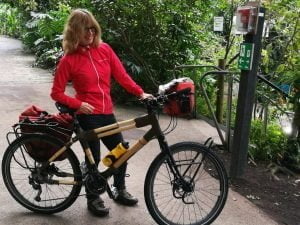 Meanwhile, going back to bamboo bicycles, Woody and I are not long back from a great visit to the very wonderful Eden Project. Apart from putting a whole new spin on 'meeting the relatives', I learned a bit more about the amazing properties of bamboo. It is hugely diverse, and many varieties grow extremely fast – so fast, in fact, that keeping it from bursting out through the roof of the Eden biomes after a single summer is a real challenge. Buildings made of bamboo are, apparently, much more likely to survive earthquakes. And bikes made of it are, without question, even more likely than a normal laden touring bike (already a huge people magnet) to attract attention and open conversation.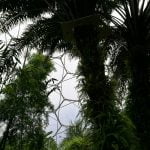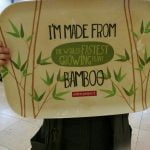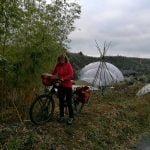 In fact, the conversation opening potential of Woody, with his distinctive, woody looks and uniquely asymmetrical aesthetics, are amongst the aspects of this bike I'm fast coming to love and appreciated the most. On a communication-based ride, this is a huge plus. And on a practical note, having just travelled half the length of the country with Woody on public transport, even train guards, with the best will in the world not always the most bike-friendly of people, have been interested and helpful….. extraordinary. All bikes are magicians, with the power to transfer even the most mundane trip into a mini-adventure and facilitate conversations with total strangers. Woody, I think, is going to be a downright mega-wizard.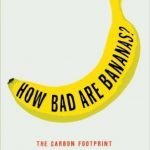 For more on relative carbon footprints, and how not to sweat the small stuff, see Mike Berners-Lee How Bad are Bananas; The Carbon Footprint of Everything  – hugely helpful and one of the few climate change books with a sense of humour!
Photo credits: Lizzie Gilson, John Rawles, Kate Rawles